For this project, my group and I created a British, dance/pop music artist called Lucid City, made up of two male DJs and one female lead vocalist. We were heavily inspired by artists such as Disclosure, Clean Bandit, and Ellie Goulding. We produced a music video for their debut single, 'My Head is a Jungle;' we both used and challenged conventions and stereotypes in our music video. Our video was loosely based around a simple narrative with a clear beginning, middle, and end which was very conceptual; it also contained performance sections which ran throughout the video.
Conventions of the dance music genre:
Our own music video relates a lot to Andrew Goodwin's theory on music videos in 'Dancing in the Distraction Factory.'

Our music video definitely demonstrates some typical characteristics of its genre; this was because we watched a multitude of music videos that belonged to the dance and pop genre and looked at what they all had in common.

When looking at the mise-en-scene of dance music videos we noticed that many of them featured scenes set in a club, or in a party-like atmosphere; often based around crowds of people dancing or having fun. It's common among dance music videos to show clips of crowds of people at festivals where the DJs played a live set, this really creates an exciting and energetic vibe to the video, which is something we wanted to replicate as best we could in our own video. Although, to replicate these types of scenes exactly would be very difficult, as we do not have access to a huge festival stage with thousands of screaming fans - but instead we focused on the feelings that are portrayed in those scenes, and tried to recreate those emotions.

This video shows clips from the balloon shoot in which we got our cast members to dance the most out of the several different set ups.


Large crowds -
our music video challenged this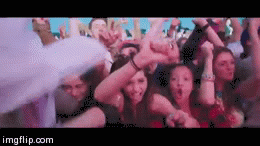 Swedish House Mafia - Don't You Worry Child
Don't You Worry Child by Swedish House Mafia was one of last year's biggest dance tunes, and became an anthem of the summer. The video matches the music, and features clips of their largest ever crowd, performing their last show in England.The video not only captures the immensity of the occasion, and the size of the crowd, but also the intimacy between each individual and that moment. It includes close up shots of people in the crowd which helps to convey their emotions at the time.
Inside clubs -
our video challenged this
Katy B - Broken Record
I made these three gifs from the music videos of three different popular dance songs by Route 94, Zhu, and Katy B. All three of these videos follow dance genre conventions as they features scenes which are set in a club, with lots of dancing as well. Although they follow the same conventions, they are all visually very different, which is what we hope our video will be too.
Contrast between inside clubs and outdoors festivals
The music video for 9TS Baby by Redlight includes clips taken from their live shows, in dark, crowded clubs as well as more festival-like shows where the crowd of people are all outside, having fun in a more chilled out and light atmosphere.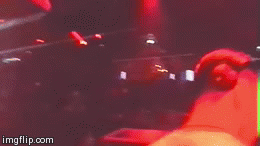 Redlight - 9TS Baby
Shots like this would be hard to replicate in some aspects as the lighting plays a really big part in the effect of the scene. We don't have access to strobe lighting and flashing lights like the ones used in this video so we have chosen to not set any of the video in a club.
The music video for Disclosure's 'F For You' is a good example of a performance-driven dance music video based around two DJs. I have made some comparisons between some stills I took from their video, and from our own video.
Disclosure 'F For You' beside our own music video
Both music videos include mid-close up shots of the DJs individually, this introduces them as the artist, as well as the singer on the track.
Disclosure 'F For You' beside our own music video
We tried to maintain symmetry between the two DJs in our wide shots. However, ours is different to the wide shots of Disclosure as we have included our female vocalist in between the two DJs.
Disclosure 'F For You' beside our own music video
We have used similar editing in some of our shots, for example, our video shows both DJs over the top of a mid-close up shot of Georgie. This is another way of getting all three members of the group into one shot without having to use a wide. Disclosure also use close ups of themselves over a wide shot over themselves which creates a really nice layered effect.
Disclosure 'F For You' beside our own music video
Similar to Disclosure's video, we wanted shots of the DJs where they're not performing to the camera.
Narrative:
Simon Frith suggested that all music videos fall into one of three different categories: narrative, concept, or performance. Our video has taken elements from both the narrative and the performance categories as we have a loose narrative, a beginning, a middle, and an end, as well as performance scenes.
The narrative in our video loosely follows Todorov's theory - beginning with an equilibrium, meeting a disruption, and then reaching a new equilibrium at the end.
Relationship between lyrics and visuals
Disjuncture is a technique that is often used and applied by indie bands in attempt to demonstrate their originality, making their video different to many others.
"In a dark room, we fight,"
This is a still I took from our music video which is an example of disjuncture within our narrative. The lyrics at this part of the video are
"In a dark room, we fight."
The shot that we have placed over these lyrics intentionally contrasts with the words; we have used an all white background with white lighting to create a bright room, opposite to the "
dark room"
mentioned in the song.
"Our shadows will dance."
This gif illustrates the contradiction between the lyrics "our
shadows
will dance" and the visuals of this scene in our music video. The word 'shadows' connotes darkness, whereas this scene is all about brightness and colour, as it was filmed outside during the day to allow for a lot of natural lighting. This is another example of disjuncture within our narrative,
Relationship between music and visuals
Andrew Goodwin's theory of music video also suggests that there is a relationship not only between the lyrics and the visuals, but also between the
music
and the visuals. This relationship is definitely visible within our music video, and is often of an amplifying nature.
The balloon hits the screen three times, each time
the cymbal sounds in the song
As the music slows down, the scene with the pinata is slowed
down into slow motion to match the pace of the song
As the pace of the song speeds up, so does the pace of the video
we did this by making quicker and shorter cuts between different shots
Goodwin suggests that the artists' record label will demand for lots of visual hooks in the music video, this includes close-ups of the artist which are often referred to as 'money shots.' As there is more than one member of our group, we wanted to give close ups of each of them individually which is a convention of the dance genre. However, we also break this convention in another aspect; this is because the artist does incline towards a more pop side of the dance genre, so we decided to include more money shots of Georgie than of the two boys as she is the lead singer of the group. We thought it was really important for us to include lots of close ups of the artist in our video because it's their debut music video and so it's vital that the audience become familiar with the members of the group; it really helps to construct the identity of the artist.
Katy B, Aluna (Aluna George), Ellie Goulding, Georgie (from our own video)
Intertextuality
Music videos are a great example of texts that are often full of intertextual references that usually refer to popular culture that the audience will recognise and connect with. I made the video below to demonstrate several different examples from various music videos that include intertextual references.
Intertextuality was a major part of our video; we decided that we wanted to use Alice in Wonderland as our focal reference throughout the video. The Alice in Wonderland influence on our video is most clear through the narrative and the set design. We thought that Alice in Wonderland was a good choice as most of our target audience (16-24 year old males and females) would have watched the Disney cartoon film as a child; so perhaps the video would add a sense of nostalgia to our target audience which would increase the appeal of the music video to them.
Editing
In 'The Kindest Cut - Functions and Meanings of Music Video Editing' Carol Vernallis explores her theory behind music videos. When talking about the narrative of music video, she says that the structure of the video may be disjointed; this applies to our music video as we often cut between the different scenes and set ups, like cutting between the balloon scene and then the paint fight scene.
In terms of editing, our music video does relate to Vernallis' theory when she says that:
- editing may match the musical phrases or the beat
This applies to our video as when it came to editing, we cut to the beat; keeping the video fast paced to match the song. There is a section towards the end of the video where the song really speeds up and so to match the video with the music, we did much quicker cuts between different scenes. I think this method of editing worked really well in our video, it adds excitement to the video, engaging the audience.
Fast paced editing.
Colour Scheme
Whilst looking at music videos of the dance genre we noticed that there was a strong recurring colour scheme that ran throughout many of the videos that we were inspired by. In the grid below are screenshots I have taken from a handful of different music videos of the same genre as our music video. It became noticeable that pinks, blues, and purples were present in a lot of the videos. These colours really stood out for us, and we wanted to use these colours as part of our own colour scheme.
As pink is stereotypically seen as feminine colour, and blue is stereotypically associated with males, we thought that using both colours was a good representation of our artist that is formed of two males and one female.
The three pictures below show stills from the performance scene, and the balloon scene of our music with the colour palettes taken from that still. The colour palettes demonstrate how we stuck to our original colour scheme ideas of pinks, purples, and blues.
Website
I looked at Chase and Status' website and made some comparisons between their site and ours. I chose to look at Chase and Status as they are a great example of a dance group, of two male DJs, who have gone on to reach mainstream success.
Banner/Menu Bar
We found that most effective websites feature a banner at the top of the page which displays the menu bar; this makes the website simple to navigate around. Chase and Status used a wide photo on their banner which we chose not to do as our website home page features a slide show of pictures under the menu bar. However, their banner did also feature their group Logo in white to make it stand out. We knew that having am eye-catching logo was essential especially for a new group, so we used this as our website banner.
Chase and Status website banner
Lucid City website banner
Social Media Icons
Chase and Status social media icons
Chase and Status' website features social media icons at the header and the footer of their website, similar to ours. They used their black/orange/white colour scheme for their icons and we kept to black and white icons for ours to make them clear.
Lucid City social media icons
Chase and Status' news page
Almost all of the artist websites we looked at had a news page which they used to inform the fans of any news regarding the band. This means that the fans can keep up to date with what the band are doing; it provides the fans with a sense that they are closer to the band. On our page we included news items such as; videos, competitions, new music releases, and festival announcements. We included a feature on our news page that allowed the user to enter the email address to sign up to the band's newsletter.
Lucid City's news page
Lots of artist's have an 'about' page on their website which gives the consumer a brief description of the artist. Some websites feature small, personal, witty biographies about each member; whereas other artists have a brief overview of the history of the artist. As our artist is very new, we thought it was important to let the website visitor know a little bit of information about each member. We kept the biographies short and sweet, showing that the members do not take themselves too seriously, creating a fun atmosphere around the group. It was essential that we put across the personality and character of each member so that the fans can get to know the members too.
Photo Gallery
Every artist website that we looked at had a page dedicated to photos of the artist, and so we followed this convention. We noticed that another convention for artists of the dance genre, was to have photos of their live sets, at festivals and concerts. However, as we are a new artist this was not possible for us to do, so we included a 'behind the scenes' photo gallery, full of pictures of the artist during shoots, and having fun in general.
Live Music / Gigs
A crucial component of an artist's website is their tour page; this is a page dedicated to informing the consumer about any upcoming shows the artist will be playing. On our website we included a column on the right side of the page which showed each individual date of the tour, and which venues Lucid City were playing at around the UK. This also provided the fan with a 'buy tickets' button which would link them to a site where they could purchase tickets to their chosen tour date. As well as the UK tour column we dedicated a large section of the page to summer festival shows; these shows are not part of the UK tour as many artists finish their tours before summer starts, in time to perform at all the biggest festivals. We chose festivals and events that are especially linked to dance music so they were most appropriate for Lucid City to perform at. We gave such a large portion of this page to summer festivals as these are the type of events that our target audiences will most likely be attending.
Having an online store is a common feature of any music artist, including those of the dance music genre. In Chase and Status' store they not only sold standard merchandise, but also products which would be considered at the higher end of artist merchandise; this includes £95 limited edition pendants. Products like this would not be suitable for our artist as it is highly unlikely that someone would pay that much money towards a product from a brand new artist. We focused much of our store products around the artist logo, keeping the synergy with the branding. We made products which would be well suited to our target audience so we produced products such as phone cases, backpacks, and beanies - items which would particularly appeal to the 16-24 year old demographic. We wanted to appeal to our primary and secondary audience equally so we made a male-tailored short and a shirt which was more suited to women, using different colours on each.
Contact
The purpose of a contact page is rather straight forward - it is there to provide a source where anyone can send a message to the artist, wether it is a piece of fan mail, or a business-like enquiry. Contact pages are usually the last page on the menu bar and often they do not contain lots of graphics, keeping the page very simplistic and focused on its function. We stuck to this convention, but we also included a Google maps feature which made the page more visual, and allowed the user to see where our record company offices were.
Digi-Pak
The purpose of the digi-pak is to sell the artist's music, this is why it is such an important artefact during the construction of our artist. Below, is a padlet which shows some of the album covers of other dance/pop artists that we looked at during the research and planning stage of our project. These albums covers inspired us and gave us ideas towards the design of our own album art.
Album cover.
We noticed that artists of the dance genre usually had cool and interesting effects on their album cover; like the kaleidoscope effect on the AlunaGeorge album, and the colours added to the Katy B cover. We decided that we wanted to follow this convention by applying different effects to our own album. Another feature that we recognised that was common on album covers was a focal image of the artist with the artist name; we followed this convention as well. As we wanted to stick to the dance genre conventions as much as possible, and not stray towards pop genre conventions, we made sure that our artist image wasn't over-stylised. However, we wanted our artist to stand out from other dance artists and so we avoided using too many different bright colours on the cover, instead we kept to a more minimal colour scheme. We came to this decision after conducting some audience feedback from members of our primary and secondary audiences.
Disclosure's album back cover.
It was important that we followed industry requirements and conventions on the back of our album cover. We included a barcode, institution logos, artist website, and copyright information.
We noticed that for many dance artists it was a convention to have a very minimal back cover that featured only the track names, usually sticking to the colour scheme on the front cover. We adhered to this convention and used a paint effect to keep in synergy with the other products.
Lucid City's album back cover.
Overall, I think that across our three products, the music video, the website, and the digi-pak, we have not only used and developed, but also challenged forms and conventions of real dance music products. We knew that we had to stick to some conventions in order to be recognised as a dance artist alongside other artists in the genre. At the same time we wanted our artist to stand out, maintaining a unique artist identity which is why we challenged other genre conventions.